{
      "variants": [{
            "id": 42772564115618,
            "selected": false,
            "sku": "8168507",
            "inventory_quantity": -2,
            "inventory_policy": "continue",
            "option1": "Default Title",
            "option2": "",
            "option3": "",
            "price": "28400",
            "compare_at_price": "29900"
,
            "swymData": {
  "empi": 7712702005410,
  "epi": 42772564115618,
  "pr": 284.0,
  "du": "https://www.biasboating.com.au//products/bluechart-g3-vision-microsd-mackay-to-twofold-bay?variant=42772564115618",
  "iu": "\/\/www.biasboating.com.au\/cdn\/shop\/products\/8168507_620x620.jpg?v=1666848390"
}
,
            "metafields": {}
          }],
      "productOptions": [
        
          {
            "name": "Title",
            "available": [
              
                "Default Title"

              
            ]
          }
        
      ],
      "default_variant": true,
      "settings": {"invalid_text":"The selected options are not available together, please adjust your selection","unavailable":"Unavailable","select_option":"Please select an option","select_variant":"Please choose a variant"},
      "product": {
        "price": "28400",
        "compare_at_price": "29900"
      }
    }
  
Our Premium Chart Offering
Derived from official charts and private sources to provide navigational aids, spot soundings, depth contours, tides and currents, and detailed harbors and marinas
Garmin Auto Guidance technology shows a suggested route to a destination¹
Depth Range Shading for up to 10 depth ranges enables you to view your target depth at a glance
Up to 1-foot contours provide a more accurate depiction of the bottom structure for improved fishing charts and navigation
Shallow Water Shading feature allows for depth shading at a user-defined level to aid in navigation
Unique 3D views like MarinerEye and FishEye provide additional perspective both above and below the water line
High-resolution satellite imagery of ports, marinas, bridges and navigational landmarks for superior situational awareness
Worldwide coverage available
Keep your charts up to date with our industry-leading New Chart Guarantee and discount card update program
Auto Guidance¹

Auto Guidance technology quickly calculates a suggested route using your boat's dimensions and a suggested path to follow.
High-resolution Relief Shading

This exceptional shading feature combines color and shadow to give you an easy-to-interpret view of bottom profile, making it easy to find artificial reefs, underwater shelves and more. High-resolution relief shading is available as a free downloadable feature via the ActiveCaptain® app.
Depth Range Shading

Displays high-resolution Depth Range Shading for up to 10 depth ranges so you can view your designated target depth.
Detailed Contours

BlueChart g2 Vision HD features 1-foot contours that provide a more accurate depiction of bottom structure for improved fishing charts and enhanced detail in swamps, canals and port plans.
MarinerEye View

Provides a 3-D representation of the ocean floor as seen from below the waterline.
FishEye View

Provides a 3-D representation of the surrounding area both above and below the waterline.
High-resolution Satellite Imagery

High-resolution satellite imagery with navigational charts overlaid gives you a realistic view of your surroundings so you can navigate with a clear moving-chart representation of your boat's position. It's our most realistic charting display in a chartplotter.
Aerial Photography

Crystal clear aerial photography shows exceptional detail of many ports, harbors and marinas and is ideal when entering unfamiliar ports.


BlueChart Feature Comparison
| | | |
| --- | --- | --- |
| Feature | BlueChart g3 Vision | BlueChart g3 |
| Integrated Garmin and Navionics content | ✓ | ✓ |
| Auto Guidance¹ technology | ✓ | ✓ |
| Depth range shading | ✓ | ✓ |
| Up to 1' contours | ✓ | ✓ |
| Shallow water shading | ✓ | ✓ |
| Raster cartography² | ✓ | ✓ |
| High-resolution relief shading | ✓ | |
| Unique 3-D views | ✓ | |
| High-resolution satellite imagery | ✓ | |
| Aerial photos | ✓ | |


¹Auto Guidance is for planning purposes only and does not replace safe navigation operations

²Raster cartography is available for selected countries. It cannot be viewed on echoMAP CHIRP and ECHOMAP Plus combos but can be viewed on mobile devices via the ActiveCaptain mobile app


Download Requirements
The file size of this download and space required on your microSD™/SD™ card is 0 MB. It is not recommended that this download be loaded directly to your device. It only can be loaded to a prepared or blank microSD/SD card (recycled microSD cards may be used to program map data).

Up to 500 MB of additional space may be required for software updates.
microSD™/SD™ Requirements View Details


Coverage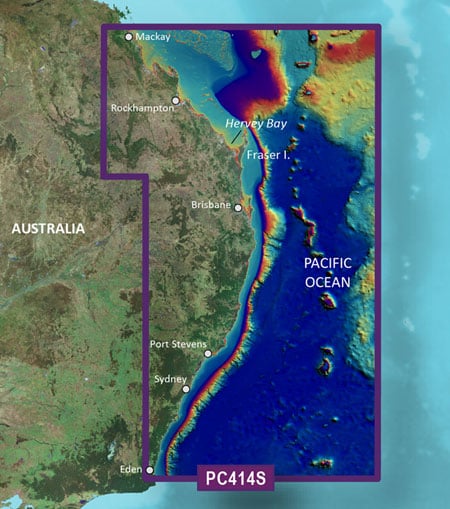 Detailed coverage of the Eastern Coast of Australia from Mackay to Eden. Also includes detailed coverage of Hervey Bay, Fraser Island, Brisbane, Port Stephens, and Sydney.
After ordering online, you will receive an automated email confirmation containing your order details. Your order will then be confirmed within a few minutes of placing your order.

It is our policy to ensure we deliver to our customers in a timely manner. In order to achieve this we use a range of freight companies depending on the size and weight of your order. In some instances we may use a number of carriers to get your products to you. For example, chain may come by road, some electronic equipment by air.

Most orders are shipped within 2 - 5 Days

Shipping rates
Orders delivered to Australian Post Codes under $499 attract an $18.00 shipping charge.
Orders of $499 or more ship free.*

For Remote areas and bulky items. If the cost to send is vastly different to our standard delivery costs, someone from our team will contact you prior to dispatch to arrange further payment or to issue a refund if you are not happy with the additional charges.


International orders will be charged at $0.00 initially and our staff will be in contact with a shipping quote. If the quote is not accepted the customer reserves the right to cancel their order and be refunded in full.

Should you have any queries or concerns about shipping, please don't hesitate to get in touch by clicking the support button on bottom right of the page.
Others Also Viewed
Free Shipping
We offer free shipping for purchases over $399
Satisfied or Refunded
Love it or not entirely satisfied with your order? Let us know!
Top-Notch Support
Any questions? Our team is one click away!
Secure Payments
Your payment information is processed securely.